1.LEAD GENERATION
Imagine walking into your office on a Monday morning and finding tens of hot leads flowing into your inbox. What a way to start a business on a Monday morning, huh? Lead Generation is not a new form of gaining new business, but it now has a new approach.
Rather than sitting at a trade show table for hours on end, or sitting up a display in hopes that targeted consumers will complete a form, you can have leads generated and sent to you using the technology of the internet, your website. Read More…
SOCIAL MEDIA MARKETING
We can see many marketers and social media experts nowadays talk about marketing and social media, talking about promoting products cost-effectively through sharing photos and quotes on Facebook, Twitter, Instagram and other platforms, and wanting their company's own social media content to promote to a large following. But how do they do that effectively?
Yes, certainly you need to create a social media marketing plan, and you have to understand what a social media marketing plan is.
In brief, a social media marketing plan is a list of action plan that you plan to do or intends to achieve through social networks, it is a process of gaining online traffic or exposure through the use social networks including your every post and quote shared on regular basis. Having said that, your social media marketing plan must be specific and effective, the more specific your plan is, the more measurable the projected results will be. So let's see these three steps to create a social media marketing plan.
STEP 1: TO SET SOCIAL MEDIA MARKETING OBJECTIVES
Setting your objectives and goals is the first and foremost matter when comes to creating your plan. Honestly you cannot go far without knowing where you are actually heading to. So having clear objectives and goals will help gauging your expectation and success. TIPS: You can approach your objectives and goals through SMART (Specific, Measurable, Attainable, Relevant, and Time-bound) approach and I would suggest you to start with two goals to focus on, and determine how to achieve it.
EXAMPLE: For Facebook, you can consider having "to increase online exposure" as your objective for 3 months. To achieve this, you can consider doing "5 posts per week to achieve 20 post likes and 100 interactions".
STEP 2: TO CREATE SOCIAL MEDIA MARKETING AUDIT CHECKLIST
Conducting a social media audit is a key of creating your social media marketing plan. It assesses your social media use and how it works for you. Why audit? An audit checklist will help you to get things back on track. TIPS:You can create a monthly audit checklist to keep track of your social media activities and results. I would also suggest you to create a table consisting of assessment of your monthly social media activities and results.
EXAMPLE: For a good assessment, you can create a table with the following elements.
Social Media Channel:
URL:
Page Admin:
Password:
Number of Followers:
Number of Post Likes:
Number of Interactions:
Date of Last Activity:
STEP 3: TO CREATE CONTENT PLAN AND CALENDAR
Content is king, whether you like it or not. Without good content, your social media channel is nothing, so your marketing plan should include content plan and calendar, defining when and what you plan to post in terms of text and photos. So your content plan should answer to these three main concerns:
What kind of content should you should post?
Who should create the content?
When should you post?
How frequent should you post?
Content calendar is all about what you plan to post on a periodical basis through selected social media channels, so make sure your content fits with your brand image, objectives and trends. TIPS: If the purpose of your Facebook account is to generate exposure and leads, make sure you are sharing enough lead generation related content. 
EXAMPLE: For a safe bet, you can follow the Social Media Rule of Thirds.
⅓ of your social content to promote your products, converts readers to sales and profit.
⅓ of your social content to share ideas and stories from thought leaders in your industry.
⅓ of your social content to build branding through close interactions.
2.PAY PER CLICK SEO & SEM
SEO- SEM and Pay per click
What is Search Engine Marketing (SEM)?
These days, most known search engines give you the possibility to place paid ads beside the search results. The most important providers in this segment are Google Adwords, Yahoo Search Marketing and MIVA. The so-called sponsored links (paid listings) generally appear above, below or beside the search engine's regular search results. The ad's display is keyword specific. That's why this form of marketing is also known as "keyword advertising".
SEO-SEM
The main search engines pay close attention to the relevance of the advertisements. On Google, the quality of the ad is even one of the characteristics that determine the ad's order of appearance. Because the normal search results (organic search) of some keywords are relatively inaccurate, users are depending more and more on the quality of paid advertisements. Therefore, besides having visibility in search engine lists, booking sponsored links is indispensable for a complete search engine marketing campaign. You can only reach all user groups by being in the paid text links as well as in the index results.
What are the advantages of Search Engine Marketing?
The advertisements are linked to specific search criteria that we will determine together with you. That way, you can present yourself to a specific target group. The users who see your ad are qualified visitors who are interested in the subject.
Search engine advertising follows the principle of pay per click (PPC). That means that you don't pay per display, but rather per visitor. Therefore, you only pay when a user clicks on the ad and visits your website. The maximal price per click is determined in advance by you. By determining a daily budget, you realize maximal cost efficiency.
Fast and flexible. Products, like for example deals on travel, can be placed in the search engine quickly.
Measuring success. By implementing professional Web Analytics Software, you can track exactly what costs have been incurred for every reservation or booking.
seo-sem
Pay per click (PPC) or Cost Per Click (CPC)
Pay per click (PPC)  or Cost per click (CPC)is an advertising technique used on websites, advertising networks, and search engines. Advertisers bid on "keywords" that they believe their target market (people they think would be interested in their offer) would type in the search bar when they are looking for their type of product or service. For example, if an advertiser sells red widgets, he/she would bid on the keyword "red widgets", hoping a user would type those words in the search bar, see their ad, click on it and buy. These ads are called "sponsored links" or "sponsored ads" and appear next to and sometimes above the natural or organic results on the page. The advertiser pays only when the user clicks on the ad.
While many companies exist in this space, Google AdWords and Yahoo! Search Marketing, which was formerly Overture, are the largest network operators. Depending on the search engine, minimum prices per click start at US$0.01 (up to US$0.50). Very popular search terms can cost much more on popular engines. Abuse of the pay per click model can result in click fraud.
Why choose ad4travel?
Ad4travel has many years of experience in travel seo, international online tourism and hotel marketing. Furthermore, we have high quality software tools at our disposal, for example for bid management and keyword analysis. Our team is composed of marketing specialists from various countries so that the ads that we place for you achieve top performance also at an international level.
3.PR NEWS AND E-MAIL MARKETING
where does PR fit into the marketing funnel. It seems pretty straight forward, right? PR helps you increase awareness, or GET FOUND (see Inbound PR infographic), by generating leads throughearned media (press hits, analyst reports…),owned media(website/blog content…) and social media (Twitter, LinkedIn…); and therefore, PR comes in at the TOP of the funnel.
Well, the reality is this analysis only scratches the surface (pun intended). PR also comes in at the very bottom of the funnel —after sales. At the bottom, the goal of an Inbound PR pro is to "convert" sales into genuine advocates. Those success stories, testimonials and case studies will then get dropped right back into the top of the funnel so your company can get found by those prospects just waiting for this kind of validation. It's a virtuous cycle!
Jeff Hoffman says,"Media is interested in one thing: the effect of your product.The lives that have been changed or made better by your company and your product." He goes on to say…
"While the release of your new product is not interesting, the fact that someone achieved something new or notable, that's a story. And if you and your product just happened to be the tool someone used to get there, you indirectly become part of the story, and you're the hero."
A top-down and a bottom-up approach, a good PR program will ensure all your press, analysts, leads, partners and investors, hear about how you are changing people's lives for the better — because at the end of the day, that's what they most care about.
Is Email Dead? Not Possibly So!
Internet marketing is all about social media now, some would say. Some would say that today, to build presence, you only need Facebook or Twitter. Even Twitter is now considered the biggest source of customer support wherever needed.
But that's not all there is to it with emails. You won't believe the amount of activity emails still get. Here's a good infographic from a company that knows what it's talking about.
4.MOBILE APP MARKETING
Creating an app is a major accomplishment, but sadly not a guarantee of riches and rewards. If you want to make any money from your carefully crafted creation, you will need a solid and effective app marketing launch plan. Here is how you I believe you should create a plan based on my experience of app launches.If you want to make your app a success, promotion should start way before you're ready to launch. It's no good developing a beautiful app if no one ever learns of its existence, so it is vital to have a detailed plan in place of how to market your product and get it turning over a profit as quickly as possible.
Where to start with your marketing strategy to sell your app?
A marketing strategy is a plan of action to sell your app. It all revolves around drumming up publicity and doing your level best to get your app to the top spots in the app stores. You are trying to create a buzz, a palpable anticipation for your app, to get users wanting your product before it is even finished. To make things easier, you can break it down into three separate stages; preparation for your launch, the action you will be taking during and just after your launch, and ways to maintain interest in your app.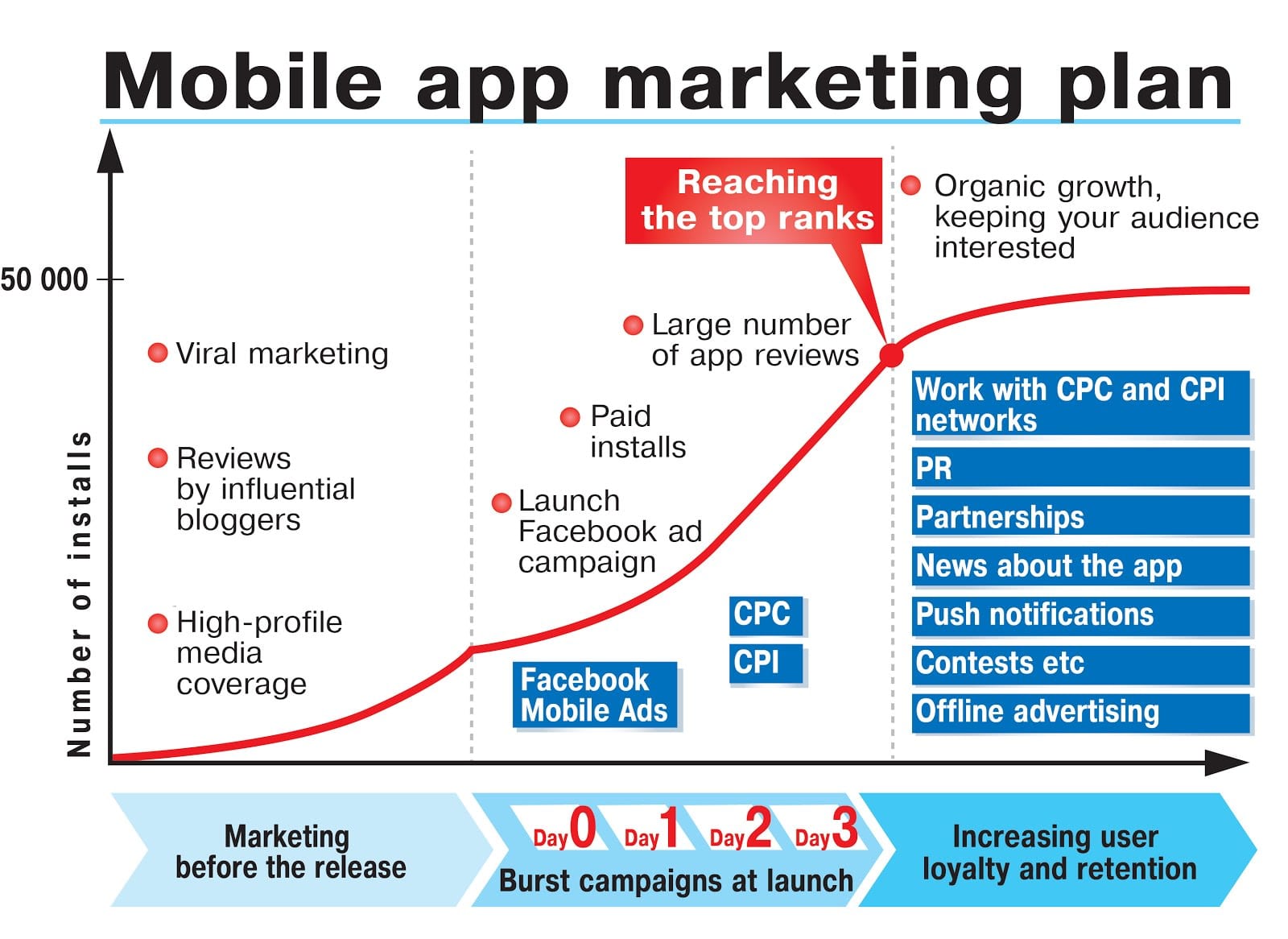 Stage 1. Preparation for launching your app
Here is where you prepare the ground for your active promotion. Make this a priority, if you don't do this right, your whole campaign could be at risk. Start by getting your weapons ready for deployment. Develop a cohesive style for your promotional materials and, once you're happy with that, create them. Write content to go in reviews, design and order the graphics for your articles, then create the banners you will be using, not forgetting to adjust for each different format. Next, prepare a series of news announcements about the app to be published on launch day and decide which portals and publications you're sending them to. Ensure you adjust them to fit the style and format each platform specifies. Select your audience for advertising in social networks and put a demo on the Test Flight service so the right people can access it. Make sure you have optimized your descriptions, screens and keywords for the app store, then get your analytics systems in place, and create your app's landing page.
It may sound daunting, but develop a screenplay and produce an advertising video, then identify ways to distribute it. With a little online advice, it's not as hard as you may think.
Collate all the email addresses and contact details you have been gathering in readiness for your launch and prepare your mailings, including everything from content, to layout and design, and a concise description of your app and its workings.
Stage 2 – Post app launch
This is it, the big day. It's a terrible feeling, opening up your lemonade stand and sitting behind your sign while no one even walks down your street. To avoid this catastrophe, make sure everyone knows that today is your day. Ways to do this, like your initial preparation, can also be segmented into three different distinct tasks: Start your banner campaign on all the other social networks you will be using as channels, purchase the paid installs you will need to raise your app in the app store rankings, and make all the arrangements to ensure you receive rave reviews and get them shared among all your media outlets.
The goal here is to attract traffic significant enough to get your app to a high position in the app stores and start winning organic installs. Other things you can do to help facilitate this is to order video reviews on the relevant channels on YouTube, or publish and distribute your own.
After getting assurances that they will place your content, distribute your press releases to your chosen media platforms Select one or more mobile ad networks to work with, test your ads, make corrections and then launch your campaign. At the same time, fine tune your ASO based on its effectiveness and do the same to your landing pages.
Stage 3. Maintaining interest in your app
So, all the above hard work has paid off and you're now sitting pretty at or near the top of the app store charts. Unfortunately, it doesn't end here.
Now, you must shift your strategy to not only attract new users, but to retain the ones you've got. Here, you need to start employing tactics that will keep your brand new audience riveted to their mobile devices, such as sending your users the odd push notification to keep them using your app. Work out alliances with other developers; have them advertise your product in their apps, and repay the favor.
Continue to order videos from popular You Tubers and keep publishing your own, along with articles through your major portals. Contact journalists and set up interviews to discuss the overwhelming success of your app, and independently keep a steady stream of news and updates about your app and its progress. To help retain your new users, develop and institute contests for them, and promote discounts and gifts for your existing customers.Reach us to design a customized plan for your your App.